The period 2015-2017 saw a rise in the number of people perceiving new business opportunities, according to recent GEM survey data.
Of the 44 countries that participated in GEM's surveys between 2015 and 2017, 33 countries experienced an increase in their population's attitudes towards potential business opportunities where they live. Below are the top 12 countries where populations reported increased business opportunities between 2015 and 2017: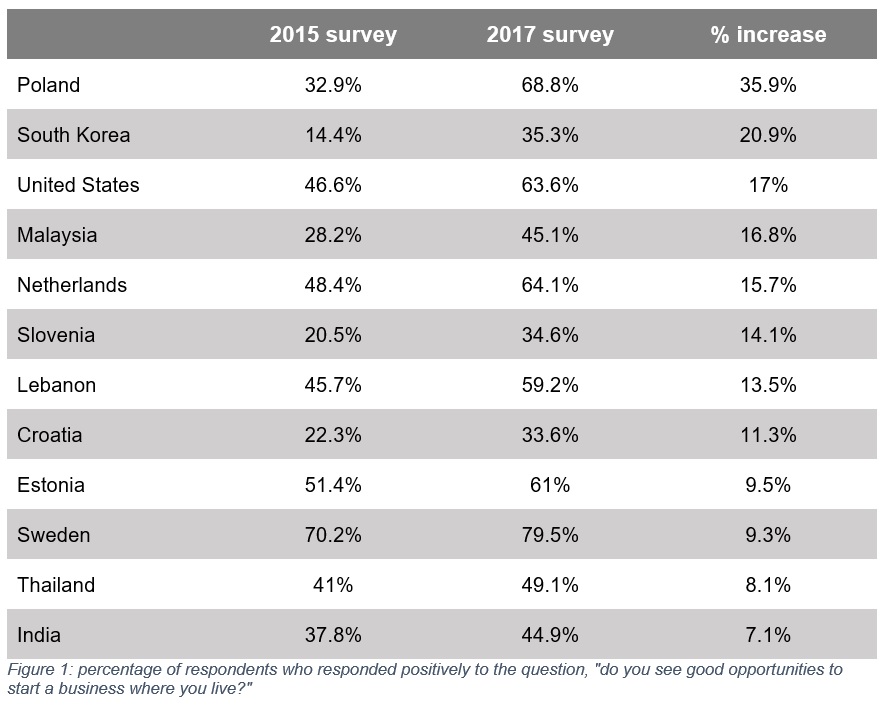 Along the spectrum from high-to-lower income countries, macroeconomic factors have been identified by GEM National Teams as the reason behind their population's increased awareness of business opportunities.
In the Netherlands, analysts identified a clear correlation between GDP growth and the level of perceived business opportunities. During the 2008 and 2009 recession years, business opportunities dipped, then recovered; then in 2012 and 2013 negative growth in the country correlated with a decrease in perceived business opportunities. By 2017, strong GDP growth led to a large increase in the population that saw the potential to start a business.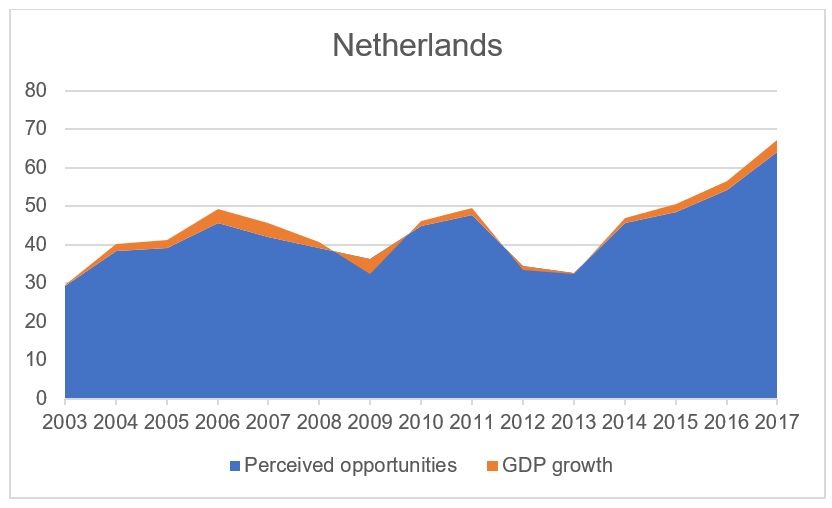 In the United States, analysts similarly reported a high increase in perceived opportunities correlated with better macroeconomic growth between 2009 and 2017.
However, in addition to the overall strong economic trends, the GEM US 2016 Report identified sharing and gig-economy platforms such as Uber and Airbnb as enabling more people to start a business. Because of the lower barrier to entry for these models of business creation, more Americans may feel their opportunities for starting a business have increased.
In lower income countries as well, economic reforms that spur growth have been credited for the increase in business opportunity. In Lebanon, a strong political and economic climate in 2017 led to a significant increase in perceived business opportunities according to the GEM Lebanon 2017 Report.
Similarly, in India, recent positive economic growth in addition to favorable demographic trends has improved its population's attitudes to their entrepreneurial potential, according to the GEM India 2016-2017 Report.
Analysis by Forrest Wright (GEM Global Data Team)