New research shows that social entrepreneurship is taking root in both developing and developed nations – with more entrepreneurs focusing on doing good – rather than solely making a profit.
Social entrepreneurs are starting businesses in all the major regions of the world, with the most social entrepreneurship activity being undertaken in the US, Australia, Western Europe, and Africa, reports the GEM Special Report on Social Entrepreneurship.

The report is the largest comparative study of social entrepreneurship in the world, based on interviews with 167,793 adults in 58 economies in 2015, and is co-authored by Niels Bosma (Utrecht University), Thomas Schøtt (University of Southern Denmark), Siri Terjesen (American University and Norwegian School of Economics), and Penny Kew (GEM South Africa).

"Social entrepreneurship – which GEM defines broadly as any kind of activity, organisation or initiative that has a particularly social, environmental or community objective – is now a significant share of entrepreneurial activity around the world; however, there is a wide variation in rates across economies, " says GEM Executive Director Mike Herrington, also a faculty member of the University of Cape Town. "Social and environmental problems are ubiquitous in all economies. Hence, politicians, business leaders, and members of society are increasingly calling for endeavours that focus on social and environmental objectives – and entrepreneurs are responding!"

According to the new report, early-stage social entrepreneurial activity, measured by the percentage of adults between the age of 18 and 64 who are currently trying to start a social purpose business is at a global average of 3.2% – ranging from 0.3% (South Korea) to 10.1% (Peru). By comparison, the rate of start-up commercial entrepreneurship in the same regions averages 7.6% (13.7% in Vietnam and 22.2% in Peru).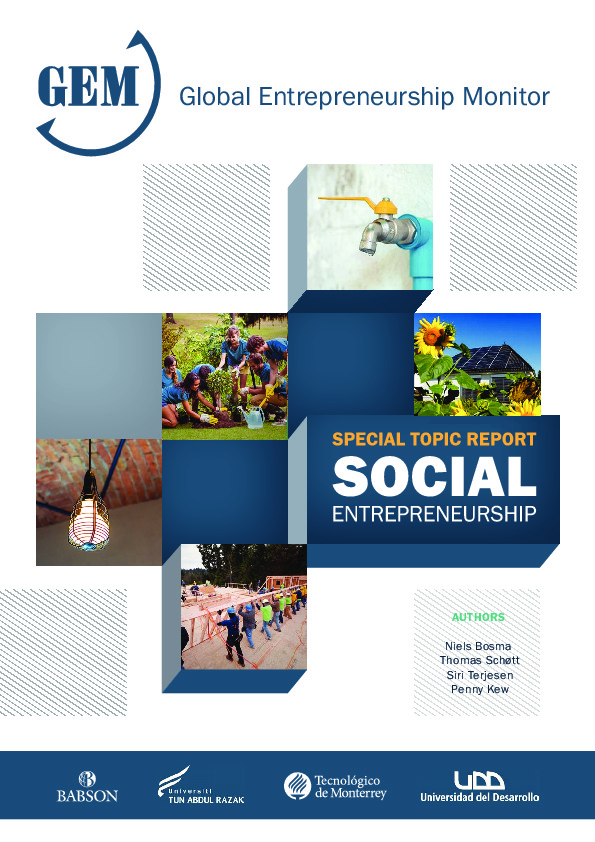 World regions with the highest social entrepreneurial activity (both in the start-up phase and those that are operational) are the US and Australia (11%), followed by sub-Saharan Africa (9%). Southeast Asia is the region with the least amount of social entrepreneurs – at just 3.8%.

Of the world's social entrepreneurs, an estimated 55% are male and 45% are female – a gender gap that is less pronounced than in commercial entrepreneurship. "A holistic view of entrepreneurial activity may nuance the apparent gender gaps observed in global entrepreneurial activity as it seems that many women do display entrepreneurial behaviour albeit not as an employer or self-employed. These women tend to pursue this role in a more social setting – for example by becoming a social entrepreneur or by making an entrepreneurial contribution in the public sector," explains report lead author, Niels Bosma, Assistant Professor with the Utrecht University School of Economics in the Netherlands.
Bosma adds that the report finds that younger people between 18-34 years are more likely to start up social purpose organisations. "Social entrepreneurship is often associated with young change-makers who are idealistic in nature," says Bosma. "There are more social entrepreneurs in this age bracket than commercial entrepreneurs in every global region, except for Latin America and the Caribbean. These findings indicate that in general, the younger generations may be more interested in making positive changes in their world through social entrepreneurship."
Most social entrepreneurs use their personal funds to start and run their businesses. Social entrepreneurs who start in Southern and Eastern Asia and the Middle East and North Africa commit the highest levels (estimated over 60%), while the share of own investment is lowest in sub-Saharan Africa (roughly 30%). More than a third of the world's social entrepreneurial ventures rely on government funding, while family and banks are also important sources of funding for social entrepreneurs.
Report co-author Siri Terjesen, a professor at American University (Washington D.C.) and the Norwegian School of Economics (Norway) says that while the report provides many answers about social entrepreneurial activity, it also raises some interesting points, inviting more research to shed a light on why for instance, developing countries are better at converting start-ups into operational phases and post-entrepreneurial activity. "We hope that researchers will answer calls for more comparative research efforts in social entrepreneurship," she says.

Terjesen adds that answering such questions would also benefit policy makers who still struggle to understand what social entrepreneurship entails and can be indecisive about whether and how to stimulate social entrepreneurship activity.

"Governments are not equipped to solve all of the world's problems – nor should they be – and are looking for innovative solutions from the private sector. Social entrepreneurs will play a vital role, says Terjesen. "The world will be a better place if we can determine the most appropriate ways to support social entrepreneurs and scale up their solutions."