The decision to sell a new product internationally seems like a daunting task to someone like myself sitting in the United States. I would have to research foreign markets, learn about regulatory obstacles and find shipping methods among other complex tasks. It would be much easier to sell to the large, domestic US market that I am more familiar with.
For entrepreneurs in other economies, this may not be an option. Either their local economy is too small or uncompetitive to support a profitable startup, or their government's preference for incumbent firms may make it impossible to compete in that economy. This would make internationalization a necessity for some entrepreneurs.
For others, internationalization represents an opportunity that surpasses their local economic potential. In this case, foreign consumers may be willing to pay more (or buy more) than the entrepreneur's local market. Or perhaps a supply chain model makes it more efficient to ship a product overseas than to try to find buyers nearby.
In these two simplified scenarios, the traditional necessity vs. opportunity framework of entrepreneurial motivation can be expanded to explain a decision to pursue international markets. In this context, smaller economies may produce necessity-driven entrepreneurs who have to pursue foreign customers to support their venture.
The annual data collected by GEM teams on international sales by early-stage entrepreneurs mostly supports this explain. Smaller economies such as Luxembourg, the United Arab Emirates, Qatar, Croatia and Cyprus, to name a few, have higher rates of entrepreneurs who generate at least 25% of their sales from international customers. The graph below highlights these countries among all 2018 participating GEM teams: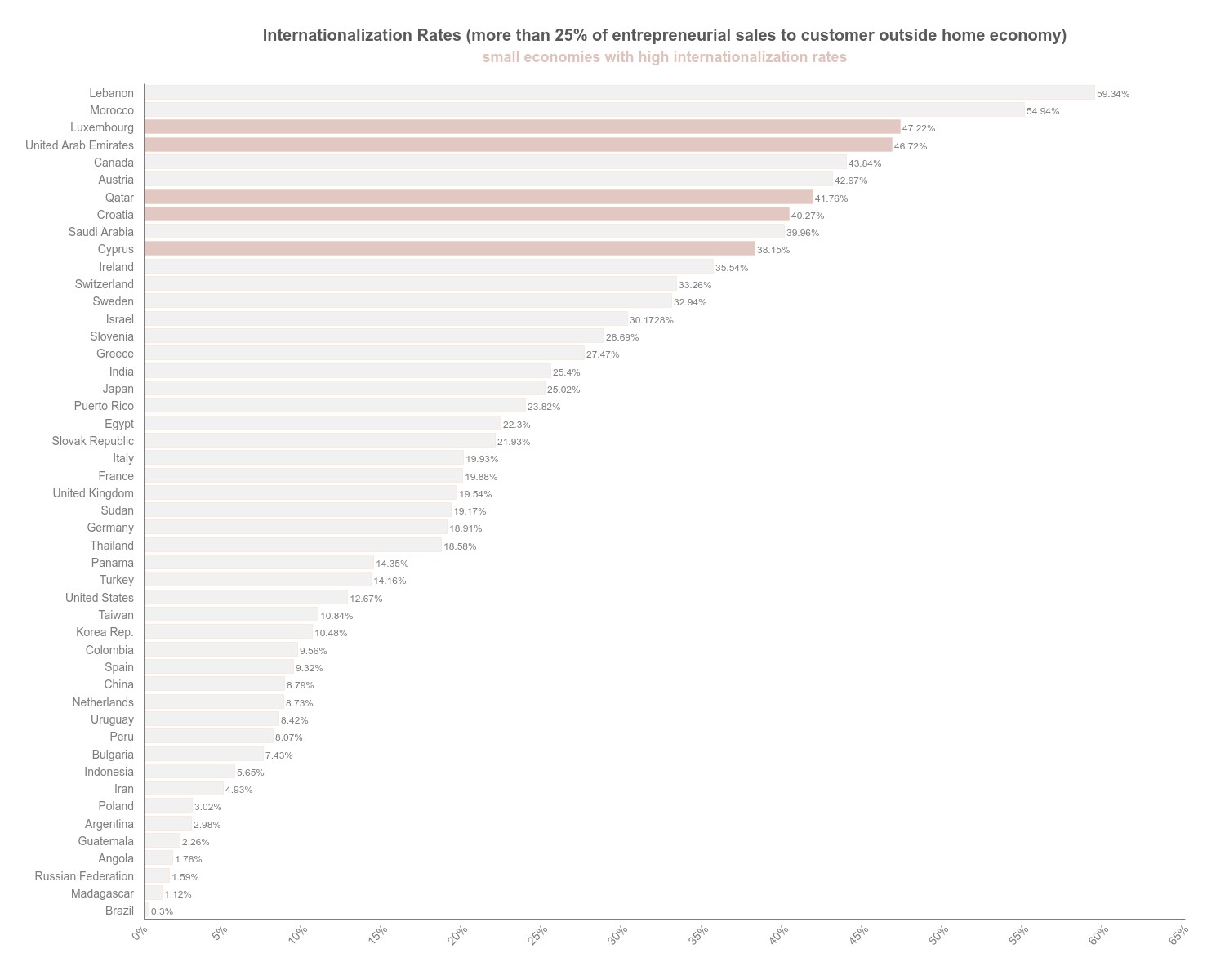 Conversely, large economies tend to produce fewer internationally-oriented entrepreneurs. As discussed in the 2018/2019 GEM Global Report, these economies provide large and diverse, as well as familiar, internal markets that may be attractive and sufficient for most entrepreneurs. Examples include: Turkey, the United States, Colombia, Spain, Indonesia, Argentina, Russia and Brazil highlighted below: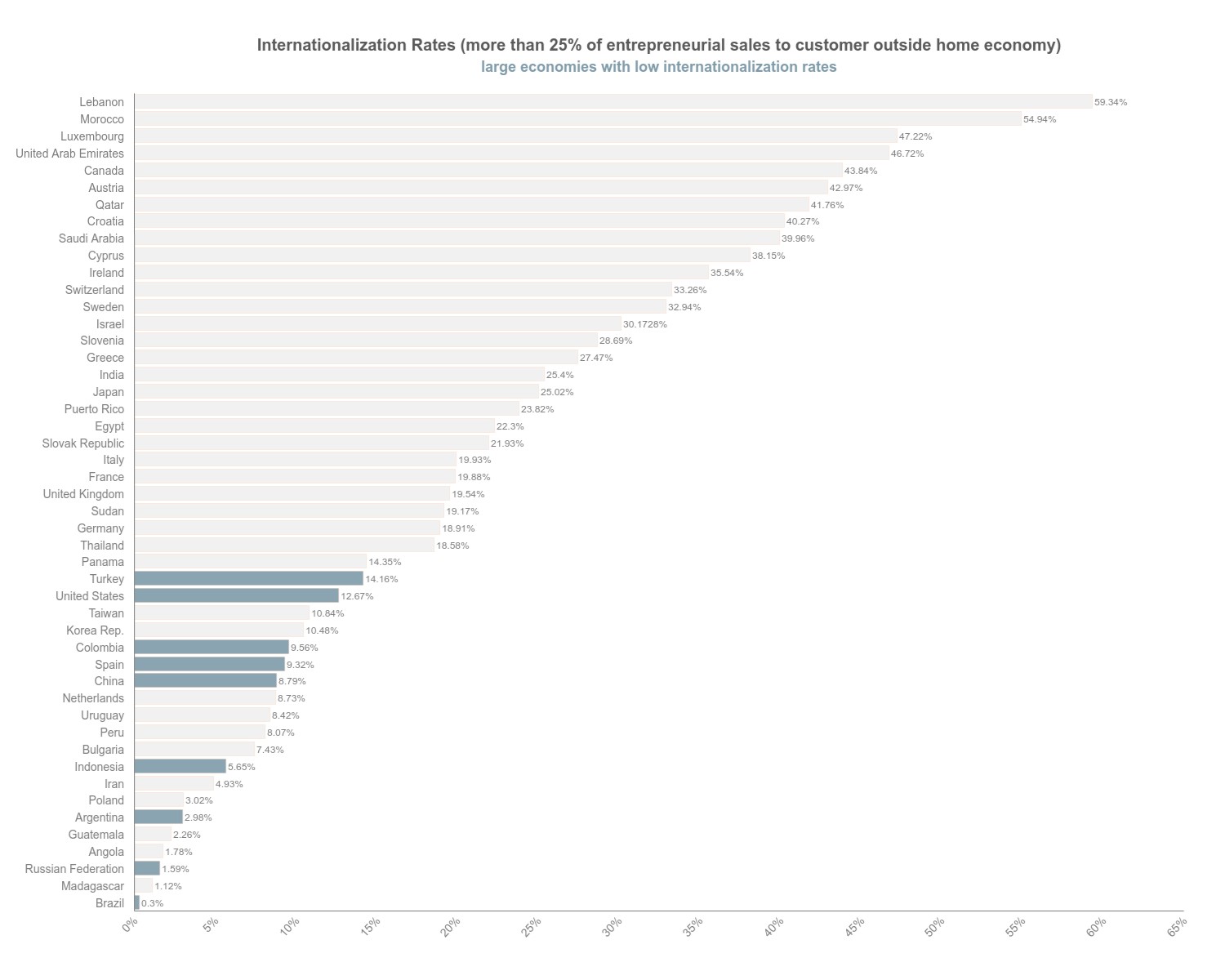 However, like many business decisions, motivation is difficult to pinpoint with one specific factor. With this in mind, another explanation for international entrepreneurial motivation is that it derives from a set of subjective beliefs about opportunity recognition that transcends local market realities. Meaning there are individuals across all economies who possess an opportunity recognition mindset that makes international entrepreneurship attractive, regardless of whether or not they happen to live in a large or small economy (Oviatt & McDougall, 2005; Freeman & Cavusgil, 2009; Reuber et al., 2017).
What makes this research track even more interesting is when it is extended to explore the impact on entrepreneurial networks within an economy. A recent paper by Mainela, Puhakka & Sipola (2018); uses case studies from Finland and Israel to identify how successive generations of internationally-successful entrepreneurs participating in networks can gradually shape the mindset of future entrepreneurs towards being more internationally oriented. The authors posit that international entrepreneurship is not just a result of subjective cognitive construction, but one where the "community holds collective opportunity beliefs that direct the activity of international entrepreneurship," and that demonstrates the "historicity and the multivoicedness of international entrepreneurship as an opportunity-oriented collective activity."
While it would require a large research project to prove, it is worthwhile to at least consider the research of Mainela et al. when looking at international entrepreneurship in certain GEM economies. Consider the cases of Morocco, Canada, Saudi Arabia, India, Japan and Egypt. These economies are large, both in population and output, but also produce entrepreneurs who sell internationally at higher rates than most GEM economies: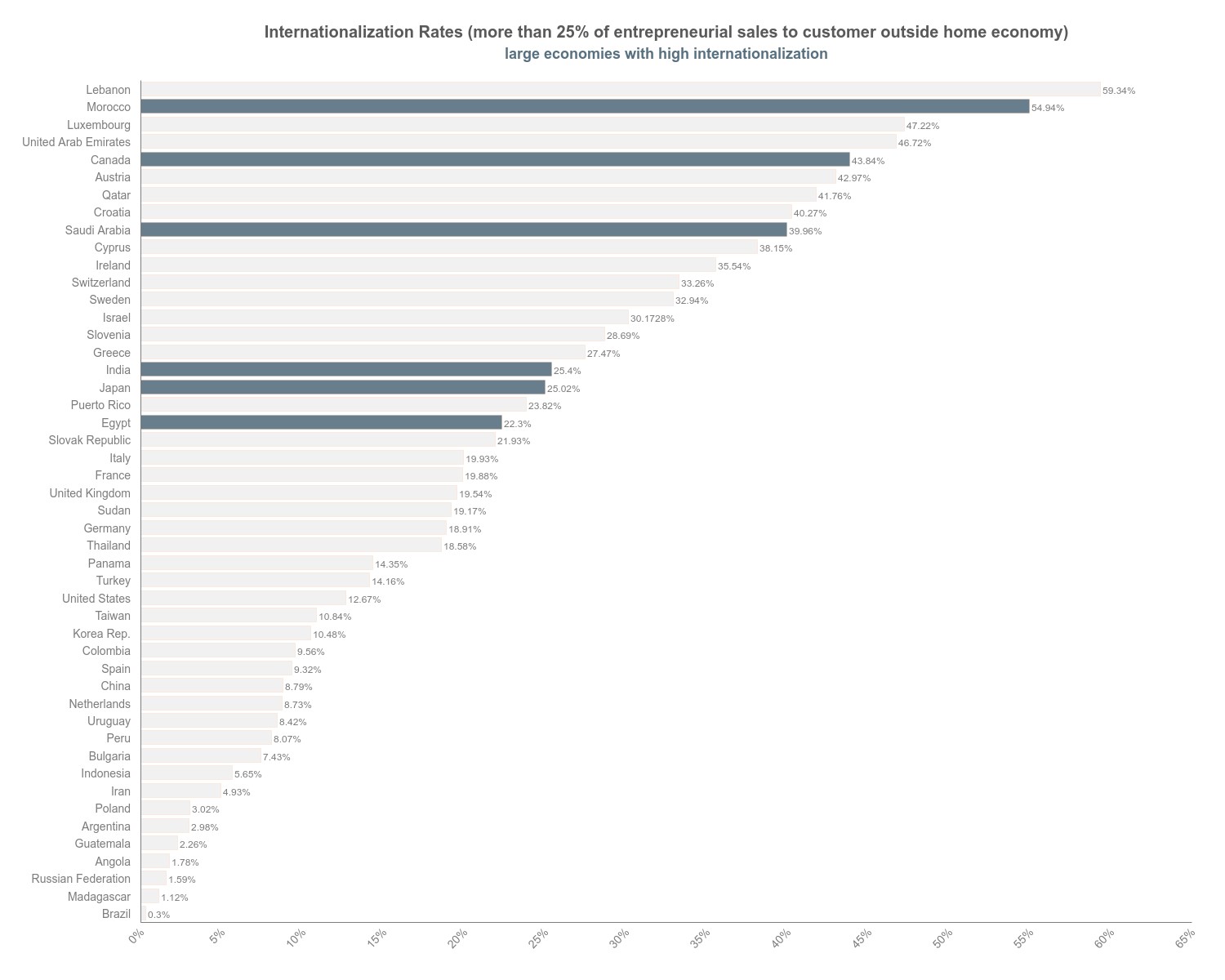 It could be said that these economies have higher rates of international entrepreneurship because of geographic proximity to other large economies. This is surely the case for many firms in the economies highlighted above, but one could point to several other examples, particularly in Latin America or Sub-Saharan Africa where this activity does not occur. This suggests that the historically rooted entrepreneurial paths of certain economies generate a higher proclivity towards collective internationalization. It can transcend immediate necessity or opportunity factors of entrepreneurial motivation.
Analysis by Forrest Wright (GEM Global Data Team)