Governments need to create the optimal environmental conditions for individuals to start and grow a business. Global Entrepreneurship Monitor's National Entrepreneurship Context Index (GEM NECI) provides policymakers with insights on how to foster such an environment. The index measures the 12 entrepreneurial environment conditions (EFCs) that make up the context in which entrepreneurial activity takes place in a country.
In its latest ranking, Indonesia, Netherlands and Taiwan are the top three.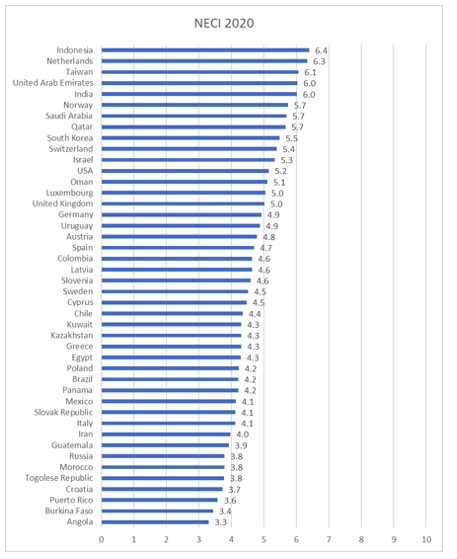 The scores are tabulated based on an expert survey conducted in each country. There are 36 experts in each respective country who weigh in on the following 12 EFCs:
Financial environment related with entrepreneurship
Government concrete policies, priority, and support
Government policies bureaucracy, taxes
Government programs
Entrepreneurial level of education at Primary and Secondary
Entrepreneurial level of education at Vocational, Professional, College and University
R&D level of transference
Professional and commercial infrastructure access
Internal market dynamics
Internal market burdens
General physical infrastructures and services access
Cultural, social norms and society support
"When interpreting these results, bear in mind that GEM examines the conduciveness of national conditions for all types of entrepreneurs and so the NECI is not about the conditions or state of a country's economy as a whole, and for all players," said Aileen Ionescu-Somers, GEM Executive Director. "For example, when talking about the state of financing, the NECI focuses on financing options specifically for entrepreneurs, not to the financial sector of a country. It is important for GEM not to lose sight of our focus on entrepreneurs."
"The GEM NECI results show some evidence that European, American and Latin American entrepreneurs have been suffering substantial negative impact due to the pandemic while Asian markets were overall more positively impacted because – one of the results of globalisation – they have become important suppliers of essential products and technologies to the world," said Alicia Coduras, GEM National Expert Survey (NES) Coordinator. "Developments in emerging economies are worth closely monitoring in a world that is changing at an increasingly accelerated pace because of the pandemic."
As an example, the GEM India study provides a wide sample of experts that has enabled consistent results over the last few years indicating that India is strongly emerging in different and powerful sectors (pharmacy, space technology and others) despite the fact that the country as a whole remains in the low-income group.
Overall, the average scores of the NECI this year are somewhat low in general.
"A major takeaway for governments and organisations promoting entrepreneurship is that in general, contexts for entrepreneurship in every participating country could be made more conducive to promoting entrepreneurship," concluded Ionescu-Somers. "Policymakers and other stakeholders would do well to scrutinize the state of the NECI pillars and identify critical areas requiring intervention."
For more information, access the GEM NES-NECI 2020 Background Notes.
Note that Global Entrepreneurship Monitor will be unveiling its annual Global Report on May 5. Subscribe to our monthly newsletter to receive the report and other GEM updates.