By most measures, Colombia's entrepreneurial sector was poised for a landmark year entering 2020. Earlier this year, The Financial Times' placed 31 Colombian companies on its first ever list of the 500 fastest-growing companies in the Americas; leading all Latin American countries based on an analysis from 2015 to 2018.
This was a tremendous achievement, representing a culmination of the country's efforts to accelerate its high-potential companies. However, there was likely little mood for celebration among policymakers and entrepreneurs because by the time the Times' released its list in April 2020, Colombia was already reckoning with the economic fallout associated with the Coronavirus. In the most recent data for example, Colombia's GDP contracted 20.6% in April 2020 compared to the same month last year. It is difficult to forecast what the Coronavirus shock will do the country's entrepreneurial sector, but a review of previous shocks can be instructive.
Colombia has participated in GEM's annual surveys since 2006 (with the exception of 2007), providing a robust time series. Over this time, the country has demonstrated a strong entrepreneurial spirit, with adult early-stage entrepreneurship, defined as the percentage of adults (18-64) involved in starting a business under 3.5 years old, consistently scoring between 20-25% annually. However, established business rates, defined as the adult population involved in being the owner or manager of a company more than 3.5 years old, has gradually declined over this period from a high to above 13% heading into the 2009 Financial Crisis, to the 6-8% range recently.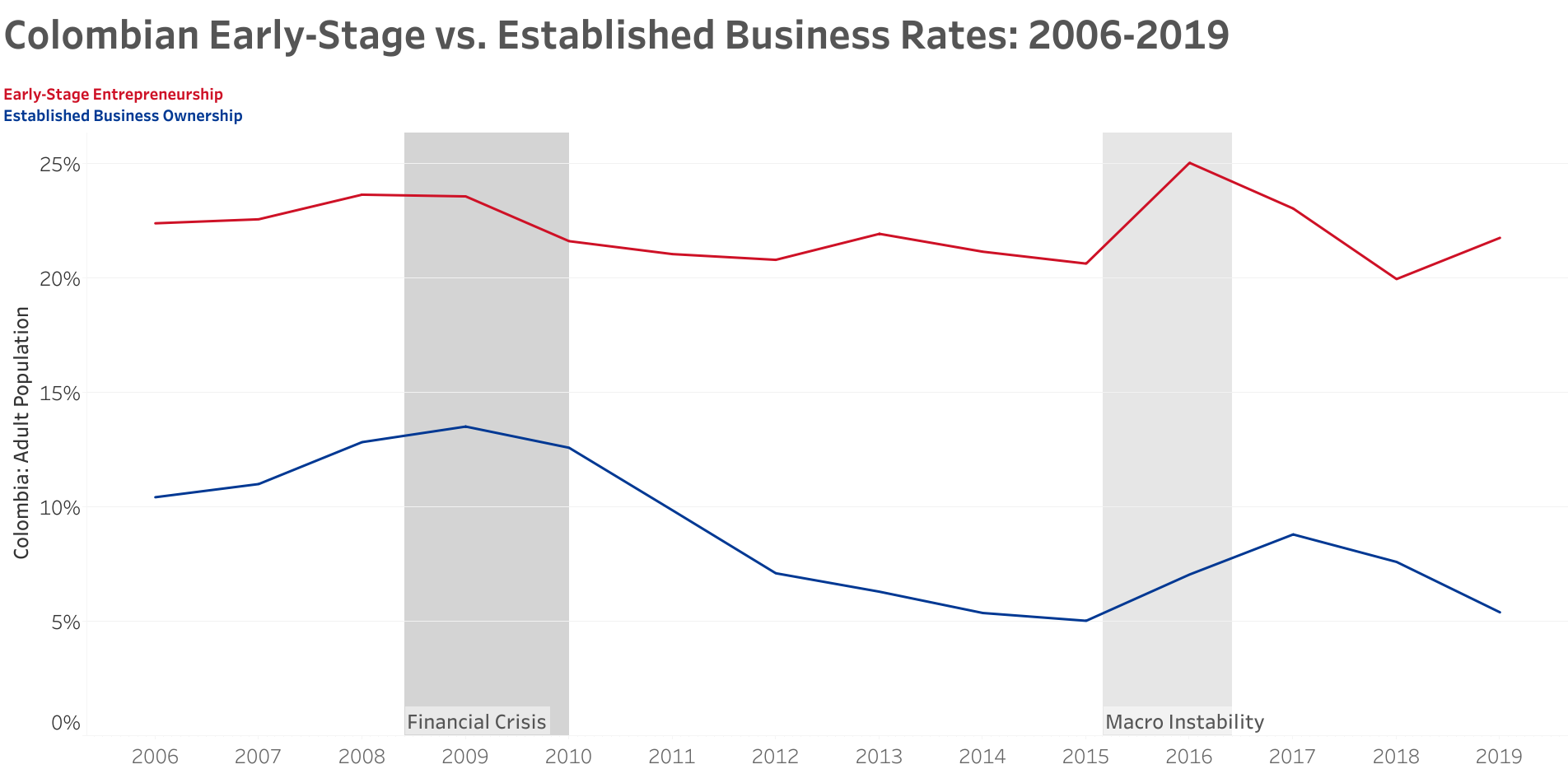 As shown above, the 2008-09 Financial Crisis precipitated a short dip in early-stage entrepreneurship, while eliminating many established businesses over the following years. The resilience of early-stage entrepreneurs signal that Colombia has the capacity to generate new businesses even as more established ones discontinue. This trend also held during the country's tumultuous 2015-16, when falling oil prices, severe weather, and labor strikes hampered the economy. It took a couple years, but early-stage entrepreneurship bounced back. However, the prolonged decline in established business is worrying, as older companies generate employment and typically have more resources to withstand macroeconomic shocks. The decline of older companies though may an advantage under Coronavirus. The duration and intensity of the business downturn may eventually favor smaller and more flexible startups, of which there are many in Colombia.
Those looking for other potential bright spots in Colombia's entrepreneurship sector can also take comfort in the country's ratio of opportunity vs. necessity motivated entrepreneurs. Since 2006, the country has seen gradual improvement in the number of people starting a business because they identified a positive business opportunity (opportunity-motivated), as opposed to because they had no other choice (necessity-motivated).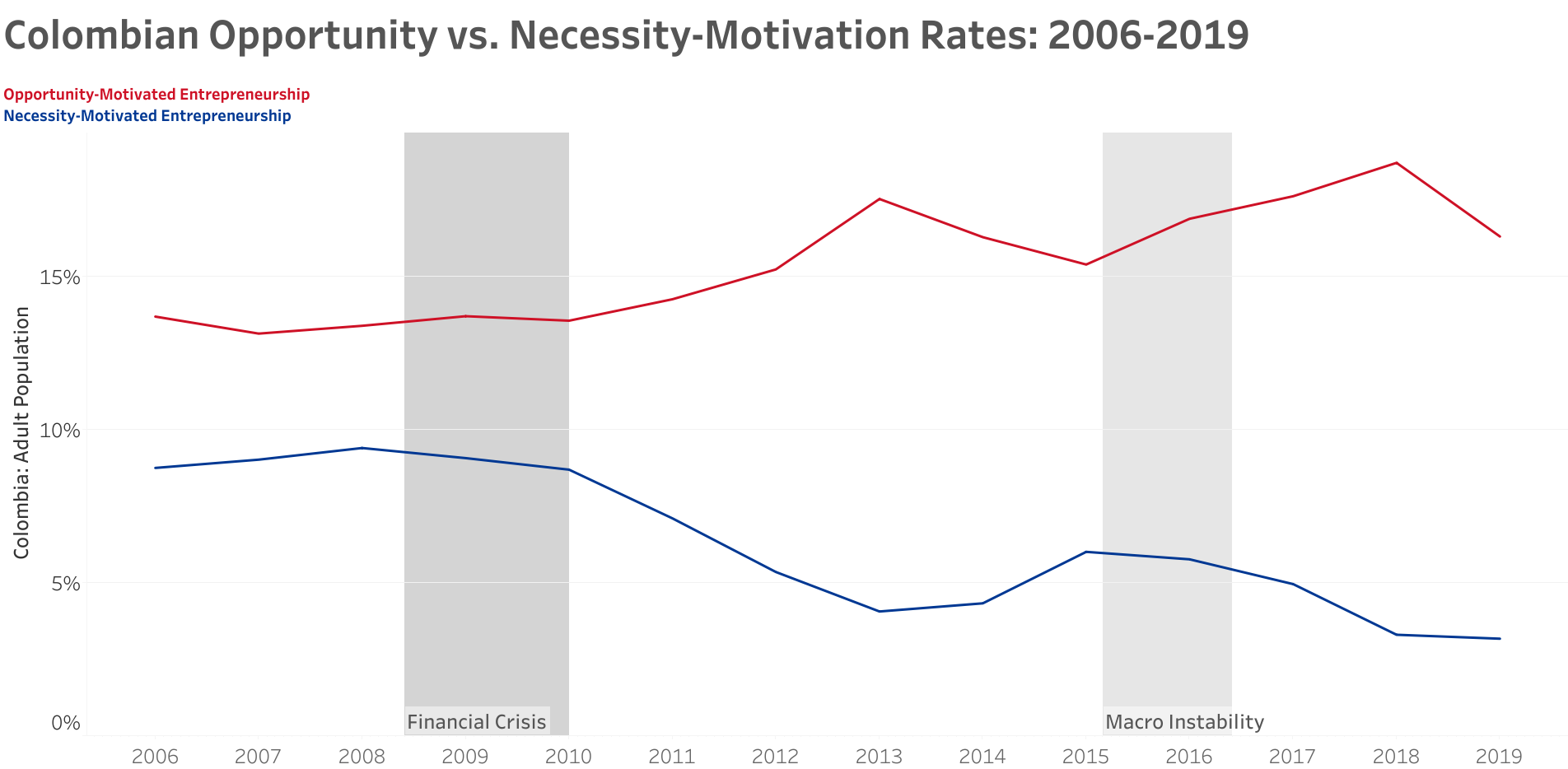 The diverging lines above represent a strong trend of "healthy" entrepreneurship in Colombia. Though opportunity-motivation dipped a bit last year (2019), it has trended upwards since 2006. It will likely decline again in the coming year, at least, but the previous rate increase means there are significantly more entrepreneurs in the country who started their company with favorable prospects, hopefully giving them enough momentum to continue.
Similarly encouraging, the aspirations of Colombian early-stage entrepreneurs has trended upwards, with more than 40% of these entrepreneurs recently stating that they expect to create 6+ jobs with their company in the next 5 years. Colombia's performance on this indicator usually leads or is near the top every year among other large, developed Latin American countries. Interestingly, the high job creation expectations did not significantly decline during the Financial Crisis but did drop off during the country's 2015-16 economic shock.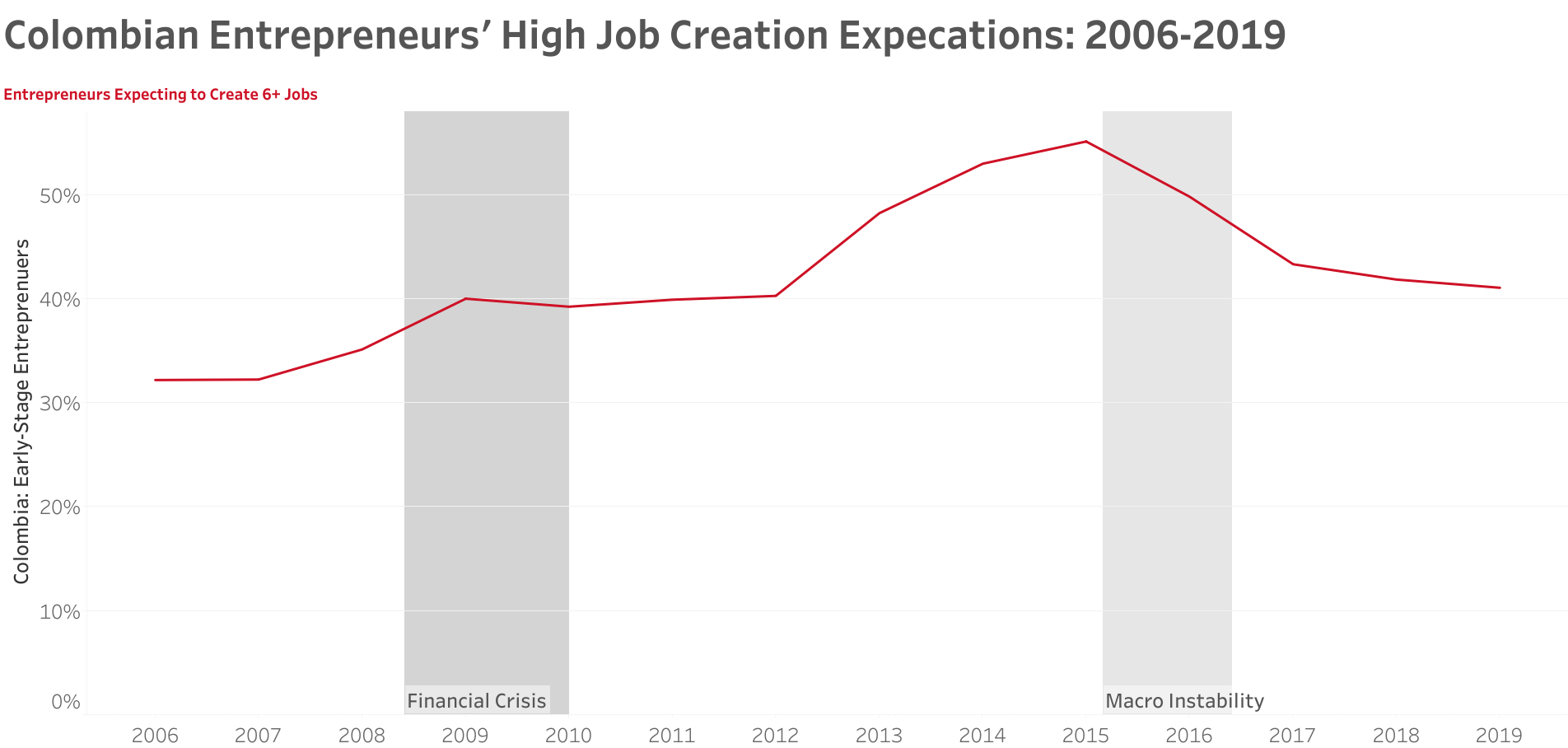 This decline might be explained by Colombia's dependence on exports, which were seriously impacted during the oil and mineral price slump of 2015-16. But similar to the opportunity-motivated entrepreneurship mentioned above, this figure has still risen to a level that can hopefully withstand the pressure of Coronavirus without bottoming out to pre-2010 levels.
Based on Colombia's gradual improvement on GEM's early-stage, opportunity-motivated, and high job creation indicators, the country has clearly established a strong entrepreneurial sector that can withstand macroeconomic shocks. These steady improvements have also provided the necessary business conditions for the fast-growing businesses mentioned earlier to perform at such high levels. Therefore, there is a tremendous need to protect the entrepreneurial sector's recent gains so that the Colombian economy can continue to benefit.
Some helpful actions include a continued push for cutting bureaucracy. From 2010-2019, Colombia scored an average of 2.3 out of 5 on taxes and bureaucracy, according to GEM's annual survey of national experts. This is low compared to most developed countries. One entrepreneur's complaint perfectly encapsulates the issue: "Many employment and business laws don't differentiate between huge corporations and smaller businesses, making for a lot of red tape for start-ups. For example, the health and safety laws that make sense for a factory with a thousand staff hardly suit a workshop of two people." To address this concern, the Colombian government recently created an online platform called "Simple State, Agile Colombia" – a forum where stakeholders can provide feedback on unnecessary business regulations. As a result, the government has claimed to have made over 2,000 revisions to its laws affecting entrepreneurs. This program should continue.
Other areas include support for university business education and startups accelerators. Colombia's universities have scored an average of 3.25 out of 5 since 2010 on GEM's expert survey, which is near the top in Latin America, and has been cited as a reason behind the particular success of the Bogotá entrepreneurial ecosystem. Continued support of the country's strong university system is necessary to maintain the positive trajectory of Colombian entrepreneurs.
With these actions Colombia can hopefully withstand the unprecedented business challenges posed by Coronavirus.