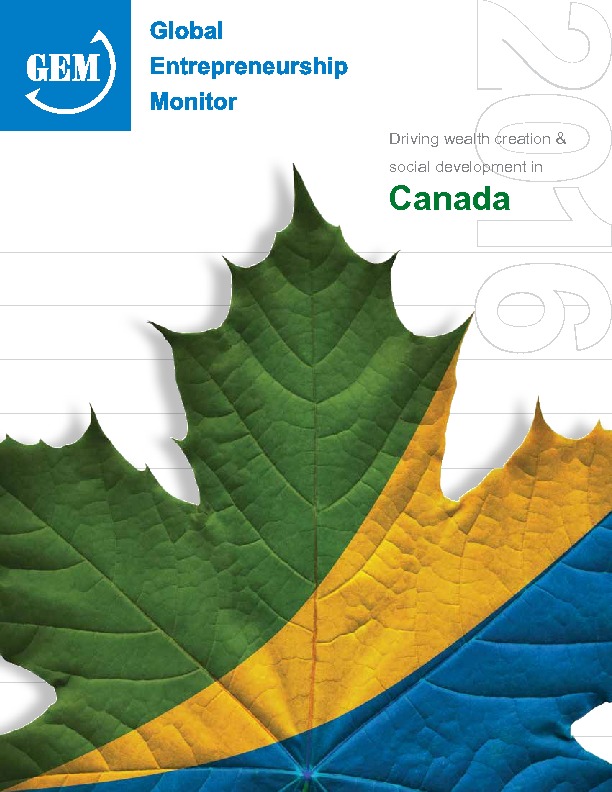 Year of publication: 2016
Category: National Reports
Language: English
Upload date: 2017-07-06
As is the case in other developed countries the Canadian population has positive attitudes toward entrepreneurship. It is viewed as a good career choice, and successful entrepreneurs are judged to enjoy high status. Among advanced economies classified as innovation driven by the World Economic Forum, Canada's TEA rate of 16.7% of respondents is now the highest, followed by those of Australia and the United States. Canada has a rate of employee entrepreneurial activity of 6.5%, placing Canada twelfth among the innovation economies. The TEA rate among women is about 2/3 that of men, which is typical among comparison countries, as it was in 2013 and 2014 In terms of the sectors, 48% of early stage entrepreneurship was in consumer services. In Canada this year the age group with the highest TEA was the 25 - 34, with 22.3%. The rates decline sequentially for the 35 - 44 group, the 45 - 54 group, and the 55 - 64 age group. The TEA rates decline reaches 10.7% among the 55 - 64 cohort. The striking feature of the results of study of TEA rate as a function of education is the fact that rate of entrepreneurial activity in each education cohort (from those with less than secondary through those with secondary diplomas to those with post-secondary credentials, and to those with post graduate experience) rises smoothly.